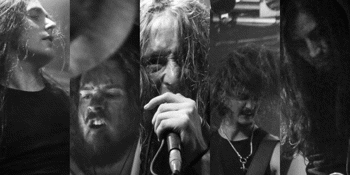 Bitter Loss Records presents
Woewarden - Album Launch
with special guests Ashen, The Furor & Primrose Path
Friday, 9 September 2022 8:00 pm
Bitter Loss Records proudly presents: 'In The Art of My Caged Existence'.

This night will not only mark the launch of Woewarden's third full length album, 'In The Art of My Caged Existence', but also the newly formed alliance between Perth's premier extreme metal record label and bleak atmospheric black metal band in person.

To celebrate this occasion, Woewarden and Bitter Loss Records have carefully selected a range of highly regarded acts and favourites that Perth has to offer. First cab off the rack opening the night, PRIMROSE PATH will be offering progressive, doom-and-grunge influenced metal that will captivate those unfamiliar with their unique sonic palette. Following them, the man, the workhorse, the Scarborough legend, Louis Rando aka THE FUROR, will pummel skins and minds with sacrilegious black metal he has spread relentlessly across the country. As the final support act, fellow label brothers ASHEN will lay waste with their HM2 worship which is sure to be a favourite with crowds in this death metal loving state of WA.

Finishing the night off, WOEWARDEN will play new songs off their new album - available on CD for physical purchase and LP for pre-order on the night - in addition to earlier classics in their discography. Comprised of past and present members of Deadspace, Advent Sorrow, Pestilential Shadows, Doomcave and Flesh Worship, Woewarden's DSBM-laced black metal influenced by the sounds of Lifelover, Shining, Harakiri for the Sky and Silencer, will writhes fans in anguish to the core.

Come join the celebration!