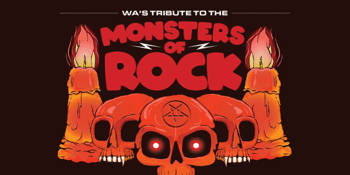 MONSTERS OF ROCK | WA'S TRIBUTE SALUTE | PERTH
Saturday, 13 February 2021 6:30 pm
TICKETS ON SALE 9AM MONDAY 23 NOVEMBER
Sign up to Oztix wait list to be notified when tockets go on sale!

A massive line-up of live acts come together at BADLANDS BAR of SATURDAY 13 FEBRUARY 2021 for the ultimate tribute to the MONSTERS OF ROCK and the legendary crew at Castle Donington.
Get ready to celebrate a night of two horned salutes, as a line-up of hell raising tribute acts turn up to eleven, and perform the best from big stage legends SLAYER, IRON MAIDEN, SEPULTURA, MOTORHEAD and THE MISFITS, plus THE DONNINGTON DJ'S mixing up all your rock festival favourites!
SLAYER performed by HELL AWAITS
IRON MAIDEN performed by MAIDEN PERTH
SEPULTURA performed by DEPRAVITY
MOTORHEAD performed by ORGASMATRON
MISFITS performed by MISFIRES
Live Music | Headbangin' Vibes | Food Truck Tucker | Bars'n'Brews
JOIN THE EVENT PAGE: CLICK HERE
For all Monsters Of Rock Tribute info and updates visit:
www.facebook.com/monstersofrocktributewa