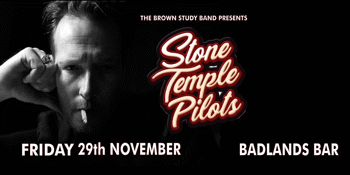 The Lounge Flys perform STONE TEMPLE PILOTS
with special guests The Brown Study Band
Friday, 29 November 2019 8:00 pm
The Brown Study Band brings you ninety minutes of carefully selected STONE TEMPLE PILOTS tracks lifted from four of their landmark albums at Badlands Bar November 29th.
Renowned for their authenticity on the "Twenty five years of Pearl Jam" show, The Brown Study Band pay homage to the enigmatic Scott Weiland and STONE TEMPLE PILOTS with the same attention to detail for this very special event.
The Brown Study Band will be performing some new music from their recently released EP as support for the night, so get down early for a certified musical feast.