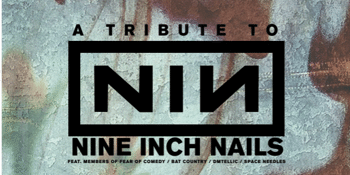 Ex Nihilo - performing the music of Nine Inch Nails
with special guests Bats
Saturday, 1 December 2018 8:00 pm
Join us at BADLANDS BAR on SATURDAY DEC 1 for a tribute to legendary industrial rock band, NINE INCH NAILS.

Over 2 x 45 minutes sets, EX NIHILO will perform tracks from The Fragile, Broken, The Downward Spiral, With Teeth and Pretty Hate Machine.

EX NIHILO features Laith Tierney (Bible Bashers / Fear Of Comedy) on vocals, backed by Yaegar Mora-Strauks (LYTS / Fear Of Comedy) Lee Afentopoulos (Bat Country/Meaning Of), Karl Hiller (Odette Mercy & Soul Atomics / Dmtellic) and Giles Lowe (Bat Country). Ex Nihilo also features of musicians who have worked together previously to pay tribute to; Faith No More, Red Hot Chilli Peppers, Rage Against the Machine, The Cure and more.