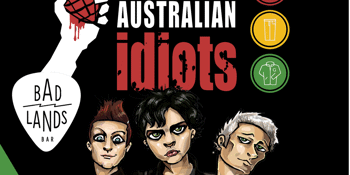 Bosh Events and Grandstand Agency present
CANCELLED - The Australian Idiots perform Green Day vs Blink 182
Friday, 11 February 2022 8:00 pm
The biggest American pop punk rockers come together for this awesome tribute night.
Green Day and Blink 182 by The Australian Idiots will perform all the big tunes from 'Dammit' and 'Basketcase' to 'I Miss You' and 'American Idiot'.
These guys grew up on this music so will always deliver a very authentic sound which is sure to rock the house!