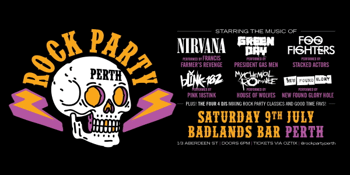 Six By Nine Agency presents
ROCK PARTY PERTH | Parties that rock! | BADLANDS BAR
Saturday, 9 July 2022 6:00 pm
ROCK PARTY PERTH takes their love of partying and live music back to BADLANDS BAR on SATURDAY 9 JULY with a huge night of tributes to the greats in ROCK!
Get your good times crew together and get ready to go off, as a line-up of party hungry tribute acts perform sets of crankin' classics from rock legends NIRVANA, GREEN DAY, FOO FIGHTERS, BLINK 182, MY CHEMICAL ROMANCE and NEW FOUND GLORY plus THE FOUR 4 DJ'S mixing block rockin' bangas and feel-good favs!
NIRVANA performed by FRANCES FARMER'S REVENGE
GREEN DAY performed by PRESIDENT GAS MEN
FOO FIGHTERS performed by STACKED ACTORS
BLINK 182 performed by PINK 18STINK
MY CHEMICAL ROMANCE performed by HOUSE OF WOLVES
NEW FOUND GLORY performed by NEW FOUND GLORY HOLE

Live Music | Party Vibes | Eat Yard Grub | Bars'n'Brews
JOIN THE EVENT PAGE: CLICK HERE
For all ROCK PARTY PERTH info and updates visit:
www.facebook.com/rockpartyperth
Parties that rock!