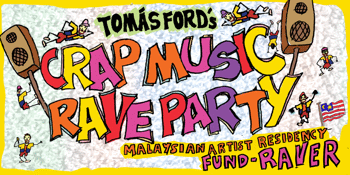 Tomas Ford presents
Crap Music Rave Party
Malaysian Artist Residency Fund-Raver
Saturday, 30 November 2019 8:00 pm
It's time for the biggest, dumbest party of your entire life. Perth's own international party icon Tomás Ford is bringing his CRAP MUSIC RAVE PARTY home for two huge dates in Perth and Fremantle to raise money for his current big adventure. The shows hit North Fremantle's Port Beach Garden Bar on Friday November 29 and Badlands in Northbridge on Saturday November 30. These parties are going
to be mega!

Tomás is the world's most hyperactive DJ, proudly playing the songs you love to hate as he lipsynchs his way through the night, projecting home-cooked animated videos, serving up the finest hi-vis mining site fashion (I mean, he is from Perth), flashing his Bunnings-bought lighting with his hands, improvising low-rent drag shows and generally doing his best to be the biggest idiot in the room. He's had audiences laughing and dancing from the UK, through New Zealand to the smallest towns of W.A.

Tomás lives for playing your crappy requests, so think of your favourite least-favourite songs he'll give 'em a spin! Not sure what to ask for? Here's some ideas… 5ive, Dannii Minogue, 90's Bon Jovi, the Dirty Dancing soundtrack, Rogue Traders, Alien Ant Farm, Cher, Fergie, Silence by Delerium, Crazy Frog, John Paul Young, Aqua, Christine Anu, that Wassuup! song, ABBA-Teens, Enrique Iglesias, Mousse T… hell, he'll even play Nickelback if you ask nicely.

Ford's fundraising to head to Malaysia for the second half of his AsiaLink writers' residency at the KL Performing Arts Centre. He accidentally started writing a new fringe show, "Tomás Ford in Kuala Lumpur". It's an obvious title for an unpredictable show, full of his most brazenly personal songs and an unhealthy dose of ukulele. He's heading up to finish the show for its' debut at Fringe World.

To get there, he needs maaaad ca$$$hhh, so get your mates together, think up your crappiest requests and join one of his maaaad partiez. Tickets are going right now from Oztix, with discounts for groups.