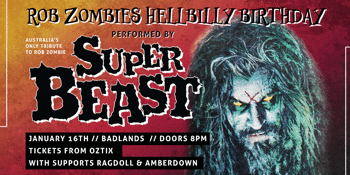 Mad Hatter Productions, Drakoru Productions, The Rockpit
Rob Zombies Hellbilly birthday
Saturday, 16 January 2021 8:00 pm
ROB ZOMBIE is a name that is synonymous with Rock and Horror and all things weird. Forming White Zombie in 1985 he quickly amassed a following that has continued with him through the Nineties and into his solo career. His first feature length movie House of a 1000 Corpses was a cult hit gaining more fans and supporters for all things macabre and alternative.
Mad Hatter Productions brings you the closest experience to ROB ZOMBIE for any fan of his work, SUPER BEAST captures the live experience that fans crave for with, filling the gap on our stages that the current epidemic has caused.
SUPER BEAST brings you the full stage show with costumes, make up and theatrics that you expect from a ROB ZOMBIE Hootenanny.