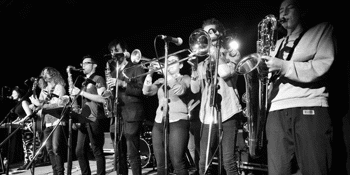 Hensteeth Productions presents
Steve Hensby Band (Album Launch)
with special guests Odette Mercy & Her Soul Atomic, Perth Cabaret Collective, Anna Schneider & DJ General Justice
Friday, 29 July 2022 7:30 pm
Steve Hensby Band are splitting at the seams with an assault to the musical senses with elements of funk, soul, ska, world, a sprinkle of psychedelia and a dash of folk. The 8-piece ensemble features a healthy sized horn section and is very danceable!

The new album is called 'It's a Dry Heat Ayyye!!!' and is a concept album about…………… (drumroll)………………… a post-apocalyptic world, the only place left on Earth with life is Perth Western Australia that has formed its own eco system based around mining and partying.

Joining them for the night are Odette Mercy & Her Soul Atomic, Perth Cabaret Collective, Anna Schneider and DJ General Justice.