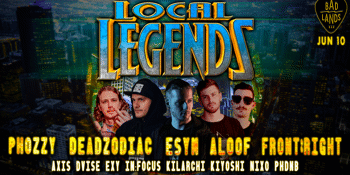 Shed Presents: Local Legends
feat. ESYM | Dead Zodiac | Aloof | Front:Right | Phozzy | Axis | Dvise | Exy | In:focus | Kilarchi | Kiyoshi | Nixo | PHDNB
Friday, 10 June 2022 8:00 PM
Perth has the most amazing local talent! We are so keen to bring to you a night of insane production and DJ skills. Get down to this one for a full on night of insane talent.
Shed Shenanigans is a local drum & bass event that delivers high octane, face melting sets from each and every sub genre.
From its humble origins in a backyard shed, Shed features up & coming talent as well as local legends to bring you an unforgettable night.
ESYM | Dead Zodiac | Aloof | Front:Right | Phozzy
Supports from:
Axis | Dvise | Exy | In:Focus | Kilarchi | Kiyoshi | Nixo | PHDNB
Hosts:
Spex MC